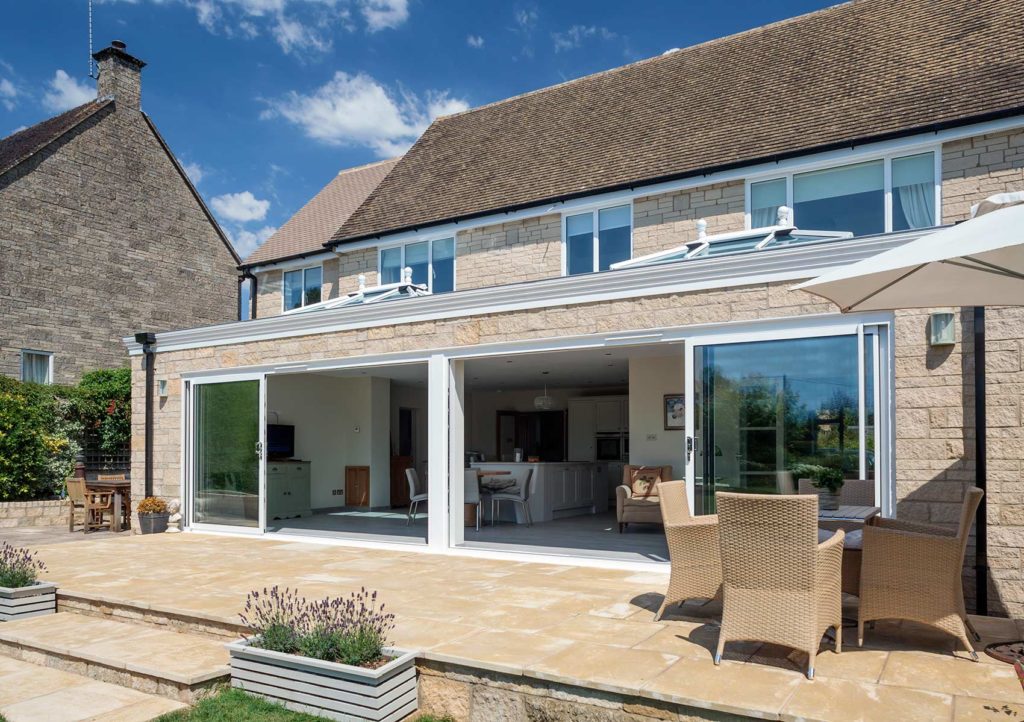 A lot of our clients ask us which they should install, bifold or sliding doors? The answer is not simple, but here's a quick guide which should hopefully make the decision a bit easier.
First of all for clarity, here is a description of each door style:
Bifold Doors
Bifold doors are made up of a minimum of two door leaves which, when opened, fold back against themselves in a concertina style. The panels are connected by hinges and run back and forth along a top and bottom track using a carriage system.
Bifold doors have the ability to fold away, to reveal the entrance/exit point of your home, helping connect the inside of your home seamlessly with your outdoor space to create a more open plan home. They can also include an access or traffic door to allow ease of access between the garden or patio and your home without having to slide back all of the doors.
Sliding Doors
Sliding doors are made up of two or more large panes of glass which move to the side and the panes sit behind one another.
Doors provide almost completely uninterrupted views and are ideal for large openings where you want to enjoy the natural light and surrounding landscape as much as possible. However, unlike a bi-folding door, they don't provide a 100% opening as the doors must slide back against each other, so one pane is always visible.
Sliding doors can also be a popular choice for homeowners with limited space as they do not require as much space to open as bifold doors. 
Now let's look at the pros and cons of each style of door: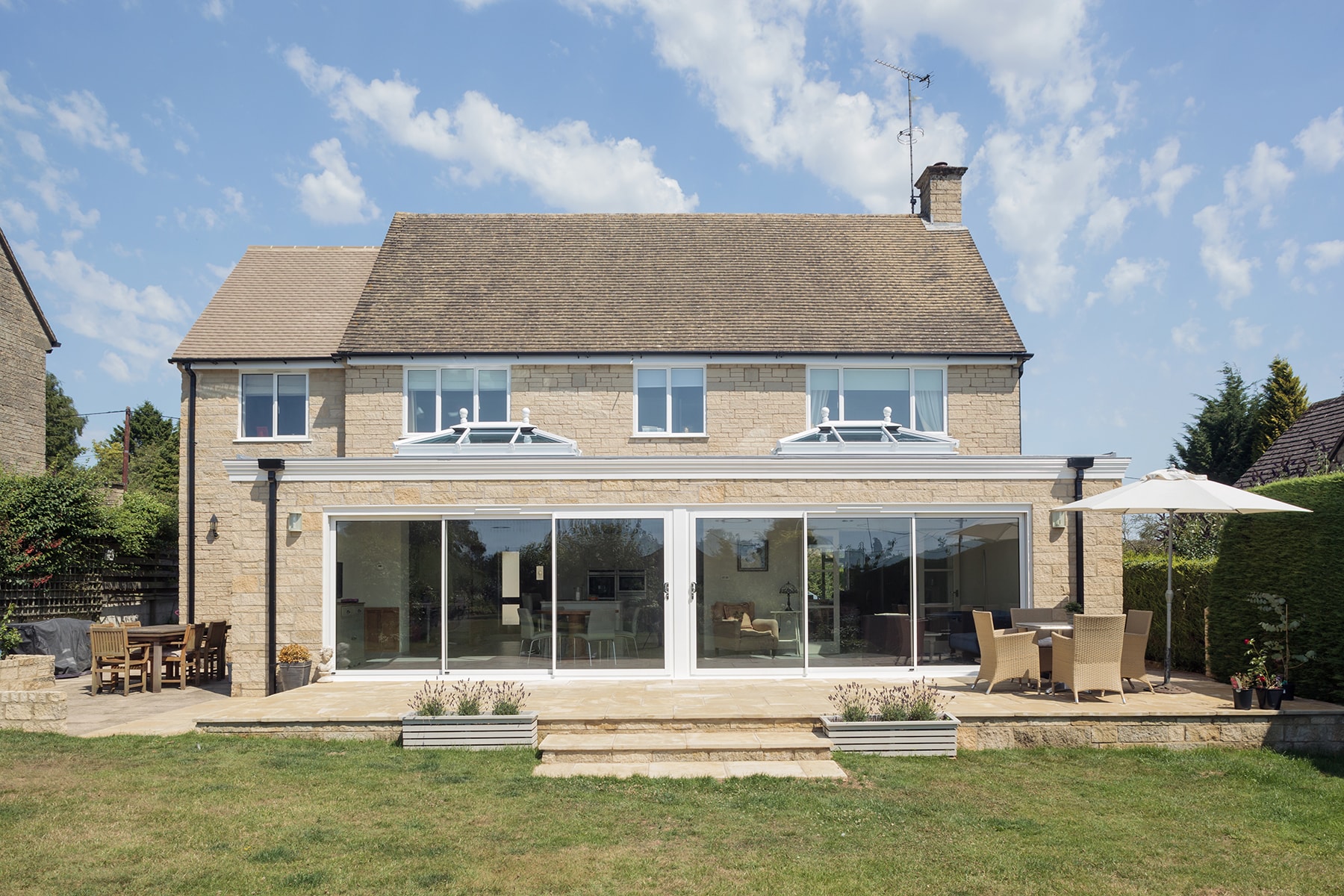 Pros of bifold doors
Can be fully opened to connect indoors and outdoors seamlessly

Traffic door option available

Wide range of options and configurations

Can open inwards or outwards

Aluminium frames are lightweight

Increase home value

Available with a low threshold

Work in a large or small opening
Cons of bifold doors
Require space to stack inside or outside the home

High number of frames can obstruct the view
Pros of sliding doors
Take up least amount of space when open when compared to bi-fold doors and French doors

Slim sightlines

Lightweight aluminium makes doors easy to slide

Large glass panels provide a nearly unobstructed view whether doors are open or closed
Cons of sliding doors
Less convenient for quick access when compared to a French door or bifold door with a traffic door

Flush track cannot be achieved due to space required for roller mechanism, but the track can be sunk into the floor.

The final verdict is in…
View outdoors when doors are closed
Winner: Sliding doors
Sliding doors tend to offer the best views of your outdoor area as the panel sizes are often much bigger individually. With large maximum panel sizes, they are typically made up of more glass and less frame than bi-fold doors. With that said, high strength aluminium bi-folds can now be up to 1.2m wide, per panel, with an extremely slim frame.
View outdoors when doors are open
Winner: Bifold doors
No style of door can really compete with bi-fold doors when it comes to the panoramic views they can provide, as they allow you to completely remove any obstruction from inside to outside.
However, depending on the sliding doors you choose, you may still be able to benefit from a widescreen view into your world.
Ease of access
Winner: Bifold doors
Bifold doors can completely open up by folding back on themselves, so they offer a greater ease of access between the indoors and outdoors. Sliding doors must always slide open.
Space saving
Winner: Sliding doors
If your home is a more modest size, then sliding doors can be beneficial because they won't take up any additional room like bifold doors do; they simply slide horizontally down the track. Because bifold doors require space to fold onto itself, you will need the required space either internally or externally to accommodate this.
Visual appearance
Winner: DRAW
This is really down to personal preference. Some people may prefer the completely unobstructed view that bifold doors can create when folded back, whereas others prefer the view sliding doors offer when closed.
The Next Steps
So now you know all the facts, all you need to do is to get in touch with us.
Got any questions for our team? Use our online contact form to send a message, or give us a call at 01425 541100. We even offer virtual appointments for a face-to-face consultation from the comfort of your home. We look forward to hearing from you!